Isabelle Beernaert
Particles of God
Flemish choreographer, director and scenographer Isabelle Beernaert touches the hearts of audiences all over the world with her unique choreographies. Like no other, she's able to translate day-to-day life into an extraordinary choreography. This also applies to her new performance Particles of God, where Isabelle brings the bodies of twelve dancers and the emotions of the audience along on an intriguing journey. These visuals melt together with musical works by Max Richter, Philip Glass, John Hopkins and others. A common thread throughout is the live music of conductor, composer and master violinist Peter Bogaert, who also appears on stage as a mysterious character. Particles of God is an existential and artistic story in which music and dance are inextricably linked. 
This is a 'language no problem' performance.
All dates and tickets
This show has passed.
| Premium seats | Priceband 1 | Priceband 2 | Priceband 3 |
| --- | --- | --- | --- |
| €42,00 | €37,00 | €31,00 | €19,50 |
€5.00 order costs are charged per booking. Submitting e-tickets is free, we charge €4.20 for shipping tickets by mail.
This is what our visitors think of this show. 
Talitha November 2023
Prachtig hoe deze voorstelling in je lichaam gaat zitten
Giel November 2023
Technisch goed ballet, maar kwam zwaar over en is niet het soort ballet wat mijn interesse heeft. Haar andere voorstellingen waren luchtiger.
Bert November 2023
Ontzettend mooie dansvoorstelling van Isabel Beernaert. Geluid en vooral licht was ook fantastisch!
Kees November 2023
hele mooie dans
R.A.M. November 2023
moeilijk om in het verhaal te komen en te volgen. prachtige dans met prachtige kostuums, mooi in de dansbewegingen. viool solo soms te irritant om aan te horen.
Ellen November 2023
Waanzinnig
Kyra November 2023
Prachtige voorstelling! Mooie choreografie en enthourage, mooie beelden. 1 nadeel: het geluid vond ik te hard.
Nicky November 2023
Een dikke voldoende voor de dans maar die violist hoeft van mij niet ,liep in de weg Wel veel respect voor de dansers die hem goed ontweken en niet struikelde over hun vele lagen kleding.
Gerrit November 2023
De geprojecteerde textiel op herdoen was niet van alle posities in de zaal zichtbaar
Pia November 2023
Prachtig theater, ongelooflijk indrukwekkende dansvoorstelling.
Margret November 2023
Het is werkelijk prachtig wat Isabelle en haar team ons iedere keer weer laten zien. Ik kijk nu alweer uit naar La dame en noir.
Koen November 2023
Intens, prachtige muziek, geestverlichtende dans, zalf voor de ziel.
Renée November 2023
Fantastische voorstelling! De dansers, muziek, costume. Complimenten aan de choreografe!
Rene November 2023
prachtig gedanste emotie volle voorstelling
Mariëlle November 2023
Een voorstelling waar je nog lang over na blijft denken. Inhoudelijk en de prachtige indringende beelden.
Linda November 2023
Prachtig! Intens stuk van hoog niveau. Geweldige dansers! De vioolmuziek vond ik persoonlijk soms iets minder: nogal hard en snerpend.
Bente November 2023
Mooie dans
Atie November 2023
Indrukwekkend. Aangrijpend
| | |
| --- | --- |
| Choreographer & director | Isabelle Beernaert |
| Music | Peter Bogaert, Max Richter, Pergolesi, Philip Glass, Jon Hopkins, Peter Gregson, Johann Johansson |
| Costume design | Cortana, Isabelle Beernaert |
| Set design | Blok by Carina |
| Dancers | IB The Company |
| Produced by | Dancers on Stage (Belgium) & Stichting Dancers On Stage (the Netherlands) |
Photography: Kim Vos
Optredens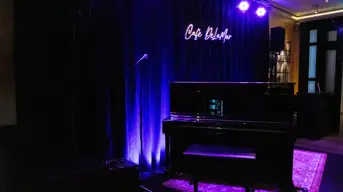 Jazz talent
Discover the newest jazz talents from the Conservatorium
Wed 13 Dec
Sat 06 Jan 2024
Performance time
Wednesday 13 December
21:45
Wednesday 17 January
21:45
Wednesday 7 February
21:45
Saturday 10 February
16:45
Wednesday 14 February
21:45
Wednesday 21 February
22:00
Wednesday 28 February
22:30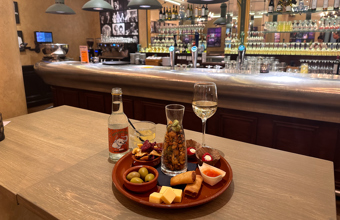 Packages
You can have delicious drinks at DeLaMar's beautiful foyers both before and after the show. Want to have a snack and a drink during intermission or after the show, but prefer not to wait in line for the bar? Book a drink and snack package beforehand. Our staff are happy to ready it for you in one of our foyers, so that you can enjoy a smooth evening at the theatre.